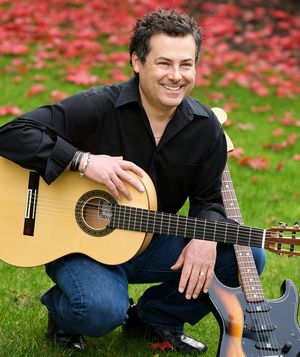 JOHN GILLIAT - SOLO, DUO, TRIO or QUARTET
John has been performing and entertaining audiences for the past 32 years and is available for all occasions such as concerts, music festivals, weddings, corporate events, corporate receptions, trade shows, private parties, seasonal parties and house concerts.
John has performed internationally for clients such as Mastercard, Pfizer Pharmaceuticals, Verizon, Sun America, Fairmonont Chateau Whistler Resort, Air Canada, Bank of America and many more…
His music is diverse – Passionate and Fiery World Beat, Latin Jazz, Rumba Flamenco! The music will energize you and set just the right atmosphere for any function.
Currently John has original material from 5 international cd releases and also performs music from the Gipsy Kings, Ottmar Liebert, Carlos Santana, Jesse Cook, Vicente Amigo and more.
John also performs many Latin jazz classics and pop classics.
John performs as a soloist or as a group custom configured for your very special needs and budget. Music for soft background or a fiery concert.
JOHN GILLIAT with CARUMBA
Carumba infuses the fiery sound of Guitar with the subtle and mellow sound of the Caribbean steel drum creating a unique new style that Carumba likes to call Contemporary Caribbean Pop Fusion.
JOHN GILLIAT with LATIN LOUNGE
 The cool sound of the trumpet combined with Nuevo Flamenco guitar and Latin percussion rhythms breathes new energy into Jazz standards and transforms Top 40 Pop songs into recognizable Jazz tunes.
 Latin Lounge is a trio of musicians who have reimagined Pop songs and Jazz Classics to create the perfect upbeat but ambient background music for any event.
JOHN GILLIAT with A NIGHT OF BOWIE
David Bowie is one of music history's most praised and successful artist, with a career that has spanned four decades. Bowie continuously sought to re-invent himself, while selling an estimated 140 million albums. His genre-defying journey through a vast array of musical styles, from rock to funk, dance to ballad, always kept fans guessing what he would do next. 
​A Night Of Bowie is a celebration of Bowie's extensive list of memorable hits, focusing primarily (but not exclusively) on his peak years from the early '70s to the early '90s. The show is eerily close to hearing and seeing Bowie himself. Take the opportunity to experience this remarkable show when A Night Of Bowie goes on the road to venues across Canada and US.