John's Solo Guitar Performance Repetoire...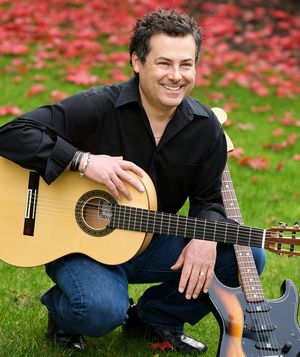 Here is just an example of some of the many selections John has performed at paste live events.
Pop Tunes:
Hotel California – Eagles
Wish You were Here – Pink Floyed
Space Oddity - David Bowie
All the Young Dudes - David Bowie
Fields of Gold – Sting
Every Little Thing She Does is Magic - The Police
Roxanne - The Police
Samba Pa Ti - Carlos Santana
Oye Como Va - Carlos Santana
Moon Flower - Carlos Santana
No Woman, No Cry - Bob Marley
Baby I Love Your Ways - Peter Frampton
Angie - The Rolling Stones
Rumba Flamenco:
Alegria - Gipsy Kings
Djobi Djoba - Gipsy Kings
Faena - Gipsy Kings
Ritmo De La Notche - Gipsy Kings
Michael - Gipsy Kings
Barcelona Nights - Ottmar Liebert
When I'm with You - Ottmar Liebert
Heart Still Beating - Ottmar Liebert
Santa Fe - Ottmar Liebert
Snake Charmer - Ottmar Liebert
Tempest - Jesse Cook
Tres Notas Para Decir - Vicente Amigo
Mediterrainean Sundance - Al DiMeola & Paco De Lucia
Latin & Jazz Classics:
Black Orpheus
Tequila
Besame Mucho
Ceresa Rosa
St. Thomas
Sabor A Mi
Guantanamera
Sway
Miserlou
Caravan
Song for my Father
Jazz & Swing:
Minor Swing - Django Reinhardt
Limehouse Blues - Django Reinhardt
Sweet Georgia Brown
For Sephora - The Rosenberg Trio
Weddings:
Canon in D (Pachelbel's Canon)
Bridal Chorus
The Wedding March
Can't Help Falling in Love
Christmas:
Walking in a winter wonderland
Angels we have heard on high
Deck the halls
Feliz Navidad
Jingle bells
Little drummer boy
First noel
White Christmas
Blue Christmas
Jingle Bell Rock
Have yourself a merry little Christmas - & many others...
Also original compositions from John's albums, Freedom, Peace, Beyond Boundaries
Christmas and Winter Strings
John Gilliat with CARUMBA
Carumba infuses the fiery sound of Guitar with the subtle and mellow sound of the Caribbean steel drum creating a unique new style that Carumba likes to call Contemporary Caribbean Pop Fusion.
John Gilliat with LATIN LOUNGE 
 The cool sound of the trumpet combined with Nuevo Flamenco guitar and Latin percussion rhythms breathes new energy into Jazz standards and transforms Top 40 Pop songs into recognizable Jazz tunes. 
 Latin Lounge is a trio of musicians who have reimagined Pop songs and Jazz Classics to create the perfect upbeat but ambient background music for any event.
John Gilliat with A NIGHT OF BOWIE
David Bowie is one of music history's most praised and successful artist, with a career that has spanned four decades. Bowie continuously sought to re-invent himself, while selling an estimated 140 million albums. His genre-defying journey through a vast array of musical styles, from rock to funk, dance to ballad, always kept fans guessing what he would do next. 
​A Night Of Bowie is a celebration of Bowie's extensive list of memorable hits, focusing primarily (but not exclusively) on his peak years from the early '70s to the early '90s. The show is eerily close to hearing and seeing Bowie himself. Take the opportunity to experience this remarkable show when A Night Of Bowie goes on the road to venues across Canada and US.